---
---
The monopolies are coming. In almost every economic sector, including television, books, music, groceries, pharmacies, and advertising, a handful of companies control a prodigious share of the market.
The beer industry has been one of the worst offenders. The refreshing simplicity of Blue Moon, the vanilla smoothness of Boddingtons, the classic brightness of a Pilsner Urquell, and the bourbon-barrel stouts of Goose Island—all are owned by two companies: Anheuser-Busch InBev and MillerCoors. As recently as 2012, this duopoly controlled nearly 90 percent of beer production.
This sort of industry consolidation troubles economists. Research has found that the existence of corporate behemoths stamps out innovation and hurts workers. Indeed, between 2002 and 2007, employment at breweries actually declined in the midst of an economic expansion.
But in the last decade, something strange and extraordinary has happened. Between 2008 and 2016, the number of brewery establishments expanded by a factor of six, and the number of brewery workers grew by 120 percent. Yes, a 200-year-old industry has sextupled its establishments and more than doubled its workforce in less than a decade. Even more incredibly, this has happened during a time when U.S. beer consumption declined.


Net New Jobs at American Breweries, 2001-2016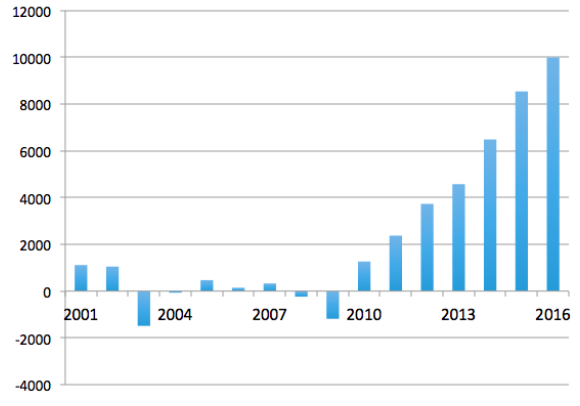 DATA: BUREAU OF LABOR STATISTICS



Total Employment at U.S. Breweries, 2001-2017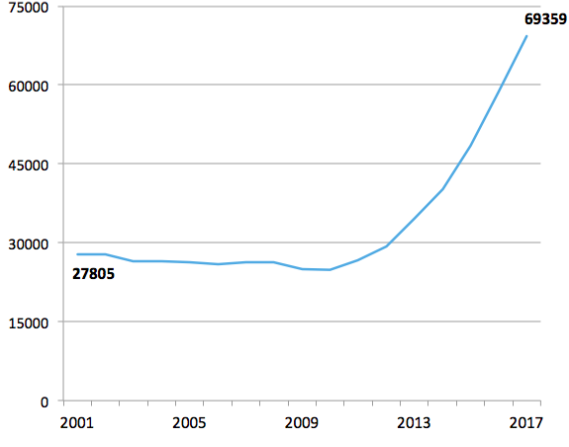 DATA: BUREAU OF LABOR STATISTICS


Preliminary mid-2017 numbers from government data are even better. They count nearly 70,000 brewery employees, nearly three times the figure just 10 years ago. Average beer prices have grown nearly 50 percent. So while Americans are drinking less beer than they did in the 2000s (probably a good thing) they're often paying more for a superior product (another good thing). Meanwhile, the best-selling beers in the country are all in steep decline, as are their producers. Between 2007 and 2016, shipments from five major brewers—Anheuser-Busch, MillerCoors, Heineken, Pabst, and Diageo, which owns Guinness—fell by 14 percent. Goliaths are tumbling, Davids are ascendant, and beer is one of the unambiguously happy stories in the U.S. economy.

The same effect is happening at liquor distilleries and wineries. Employment within both groups grew by 70 percent between 2006 and 2016, thanks, in part, to the falling real costs of booze-producing equipment and the ease of advertising local businesses on social media.

More info...