---
---
Below, we look at a total of five factors to rank the best cities for beer drinkers. Specifically, we look at the number of breweries, breweries per 100,000 residents, bars per 100,000 residents, the average number of beers per brewery and the average price of beer. Check out our data and methodology below to see where we got our data and how we put it together to create our final rankings.

Key Findings

The beer kings reign supreme – Seven of last year's top 10 finished in the top 10 this year: Portland, Oregon; Asheville, North Carolina; Portland, Maine; Cincinnati, Ohio; Denver, Colorado; Seattle, Washington; and Duluth, Minnesota. And of the cities that cracked the top 10 last year but not this year, none fell outside the top 25.
Good beer cities can be found across America – It's possible to make the case that the Pacific Northwest is the premier brewery region in America, but no matter where you are in America, you aren't too far from a great beer city. The West, Midwest, Northeast and South all have at least one representative in the top 10 cities for beer drinkers.

---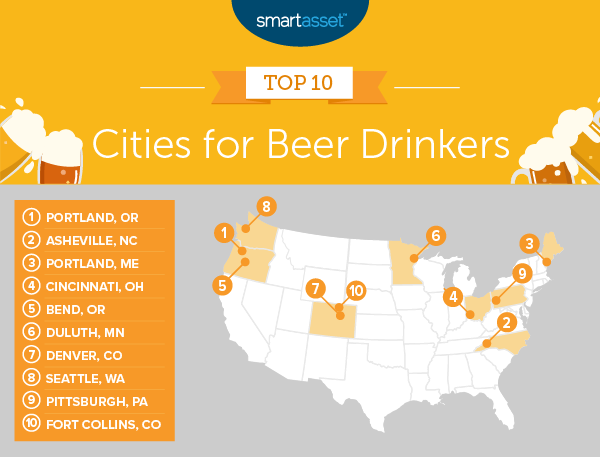 Credit: smartasset
1. Portland, OR
The City of Roses is also fond of hops and malted barley, according to our analysis. Portland is awash in beer, ranking in the top 10 for both breweries per 100,000 residents and bars per 100,000 residents. Most notably, Portland has 67 breweries, which equals about 10.34 breweries per 100,000 residents. With such craft brew variety in the city, even the pickiest beer connoisseur should find something suited to his or her palette.
2. Asheville, NC
You almost can't go anywhere in Asheville without running into a brewery. This city of 92,000 has 26 breweries. That gives it the highest density of breweries per resident, at more than 28 breweries per 100,000 people. Asheville also offers a substantial craft beer scene with nice variety: It ranks 21st for bars per 100,000 residents. Unfortunately, drinking here will do no favors for your savings account, the cost of a pint of beer here is above the study average.
3. Portland, ME
The East Coast Portland cracks the top three for the fourth year in a row. This is another city where the total number of breweries may not blow you away, but on a per capita basis, Portland ranks No. 2 for brewery density. Portland has a total of 18 breweries, equal to just under 27 per 100,000 residents. This city also ranks in the top 15 for bars per 100,000 residents, meaning you shouldn't have too much trouble finding an open seat at your local watering hole. Finally, Portland is a fairly affordable city to drink your favorite amber liquid. The average pint here costs $4.00, second lowest in our top 10.
4. Cincinnati, OH
Cincinnati is home to 25 different breweries, good enough for 14th. But due to a fairly large population, those 25 breweries equal just 8.3 per 100,000 residents. That leaves Cincinnati beer drinkers facing the possibility of sobering lines to get into their favorite brewpubs. One intoxicatingly attractive metric for beer drinkers in Cincinnati is the variety of beers on offer at breweries. The average brewery in Cincinnati has produced nearly 100 different beers.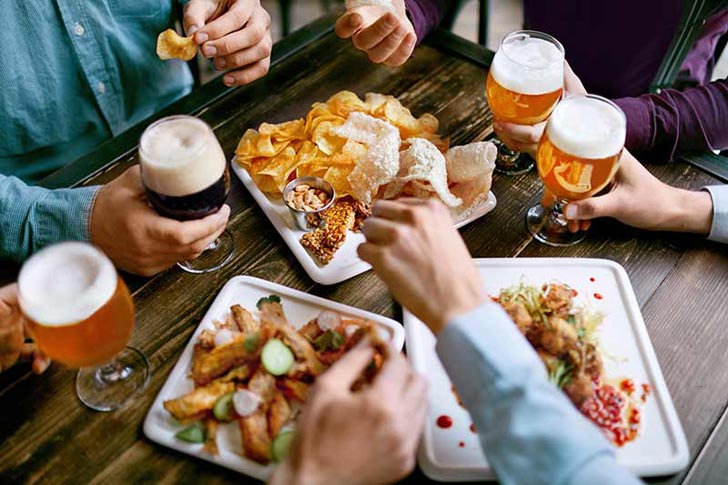 5. Bend, OR
These are heady days for the Bend, Oregon craft brewery scene. Since 2016 alone, five new breweries have bubbled up. That is not to say the Bend brew masters lack experience. Bend is home to some of the most established breweries in the country, with Deschutes Brewing founded 30 years ago. In terms of our analysis, Bend claimed the fifth spot because of the large number of breweries it has, relative to the population. With 22 breweries per 100,000 residents, locals here should not go thirsty.
6. Duluth, MN
If you're a beer-drinker who places a lot of your beer drinking happiness on hitting up as many brewpubs as possible, Duluth may not be for you. This city has a respectable 10 breweries or 11.62 per 100,000 residents. But Duluth secures its top-10 spot due to its affordability. Duluth ranks second for the average cost of a beer.
7. Denver, CO
With 73 active breweries, beer drinkers will find it difficult to surpass Denver for quantity and variety of breweries. In fact, only one city – Chicago, Illinois – has more breweries than Denver. But finding a bar might be more difficult in the Mile High City. Denver ranks 66th for bars per 100,000 residents. Residents here who struggle to budget, may find themselves looking longingly at other beer hubs around the country. The average beer here costs $5.75, according to Numbeo.com analysis.
8. Seattle, WA
Seattle is probably better known as a destination for coffee lovers, but those well-caffeinated Seattlites also find time to drink something more potent. The Emerald City has the fifth-most breweries in the country and the 23rd-most on a per capita basis. Overall, Seattle ranks in the top 50 for four of the five metrics we analyzed. Anyone drinking in Seattle will need to make sure he or she has a healthy checking account balance, as Seattle is one of the most expensive cities in the country for beer.
9. Pittsburgh, PA
Coming in ninth is the Steel City. Here drinkers can enjoy access to a large number of bars and quite a few breweries. Pittsburgh ranks in the top 35 for breweries and breweries per capita. But most notably, Pittsburgh ranks in the top 20 for number of bars. It has more than 36 bars per 100,000 residents, good enough to rank 14th for that metric.
10. Fort Collins, CO
Not all breweries are created equal. Some are able to come out with new creative creations year after year. That is where Fort Collins stands out. The average brewery has more than 100 creations, the highest rate in the top 10. Apart from the extensive diversity of beers here, Fort Collins also has quite a few breweries. This city only falls to the last spot in the top 10 because of the lack of bars. Fort Collins ranks outside the top 100 for bars per capita.


---

Credit: smartasset
Total number of breweries. Data comes from ratebeer.com


Number of breweries per 100,000 residents. Data on microbreweries and brewpubs comes from ratebeer.com. Data on population comes from the U.S. Census Bureau's 2017 1-Year American Community Survey.


Average number of beers per brewery. Data comes from ratebeer.com


Number of bars per 100,000 residents. Data on bars comes from the U.S. Census Bureau's 2016 American Business Patterns Survey. Data on population comes from the U.S. Census Bureau's 2017 1-Year American Community Survey.


Average price for a pint of domestic draught beer. Data comes from Numbeo.com.


First, we ranked each city in each metric. We then found each city's average ranking, giving the price of draft beer and average number of beers per brewery a half-weight. We double-weighted the total number of breweries. Using this average ranking, we created our final score. The city with the best average ranking received a score of 100, and the city with the worst average ranking received a 0.


Correction: An earlier version of this study misstated our metric on the number of bars per residents. It is bars per 100,000 residents, not bars per 10,000 residents.


---
About the author:
DEREK MILLER, CEPF®
Derek Miller is a graduate of the University of Edinburgh where he studied economics. He is passionate about using data to help people make better financial decisions.

Derek is a Certified Educator in Personal Finance® (CEPF®) and a member of the Society for Advancing Business Editing and Writing. He is a data journalist whose expertise is in finding the stories within the numbers.

Derek's writing has been featured on Yahoo, AOL, and Huffington Post. He believes the biggest financial mistake people make is waiting too late to save for retirement and missing out on the wonders of compounding interest. Derek lives in Brooklyn.

More info...