---
---
The Weihenstephan Brewery is the oldest continuously operating brewery in the world. The brewery's origin story begins in 725 when Saint Corbinian established a Benedictine monastery in Weihenstephan. Around 768 the monastery began brewing beer because there was a hop garden in the monastery's vicinity.
Weihenstephan Monastery's monks continued to beer brew over the next few hundred years and in 1040 their beer brewing became official. Abbot Arnold obtained a license to brew and sell beer, which marked the official beginning of the Weihenstephan Monastery Brewery.

In 1921, the brewery got its modern name: Bavarian State Brewery Weihenstephan. Since 1923, the brewery has used the Great Seal of the Bavarian State as its corporate logo.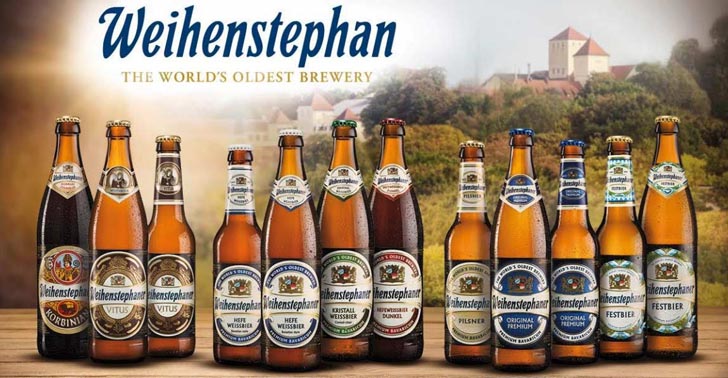 Official Name: Bayerische Staatsbrauerei Weihenstephan
Year Established: 1040
Country of Origin: Bavaria, Germany
Available Beers:
Wheat Beer
Dark Wheat Beer
Light Wheat Beer
Non-alcoholic Wheat Beer
Kristallweissbier
Vitus
Original Helles
Non-alcoholic Original Helles
Pils
Tradition Bayrisch Dunkel
Korbinian
1516 Kellerbier
Festbier
Winterfestbier
Website: weihenstephaner.com