Address: Theresienwiese Bavariaring, 80336 Munich,
Date: Sat, 19 Sep 2020 - Sun, 04 Oct 2020
You must be an adult to attend this event.
Event Description
Oktoberfest is the world's largest Beer Festival. Held annually in Munich, Bavaria, Germany, it is a 2 weeks festival running from mid or late September to the first weekend in October. More than six million people from around the world is attending this event every year.


Image source: Oktoberfest.de

The Oktoberfest takes place on the Theresienwiese (the big field on the lower left) near Munich City Centre. It is perfectly walkable from the Central Railway station or 'Hauptbahnhof' and the closest U-Bahn station to it Oktoberfest entrance is Theresienwiese.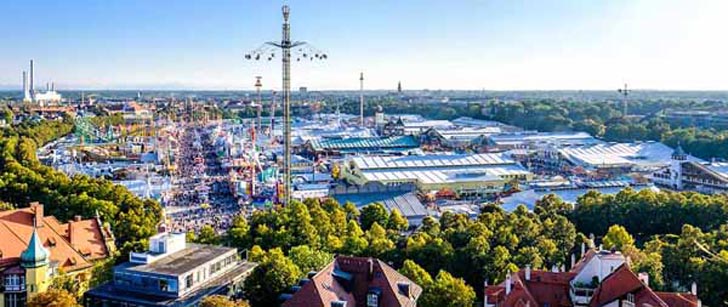 Travelers Tips
The drinking age for beer and wine in Germany is 16 years old. Distilled alcohols, like spirits, can be purchased at age 18.
Children are allowed on the festival grounds. Children are allowed in the beer tents as well, but children under six-years-old must leave the tents by 8 p.m., even if they are with their parents.
You won't have much problem in Munich if you can't speak German. Most Germans started learning English in school as early as age 10, if not before. A large majority of Germans under the age of 50 know enough English to hold a conversation or give you directions.
There are enough facilities in the tents. But in a tent with thousands of people drinking thousands of liters of beer there also is a clear need for these! For men, this usually means a wait between 5 and 10 minutes in the line. For women, this usually means a wait between 10 and 20 minutes in the line.
Tips are no more than 10 to 15% of the beer or food price.
Source: mybucketlistevents.com
---
Event information may be out of date due to COVID-19. Please confirm details and more information with event organizers Visit Event Website