About Best Beer Festivals
BestBeerFestivals.com is the most organized and updated source of information for the most popular Top 50 Beer Festivals in North America, Europe, Asia and the rest of the world.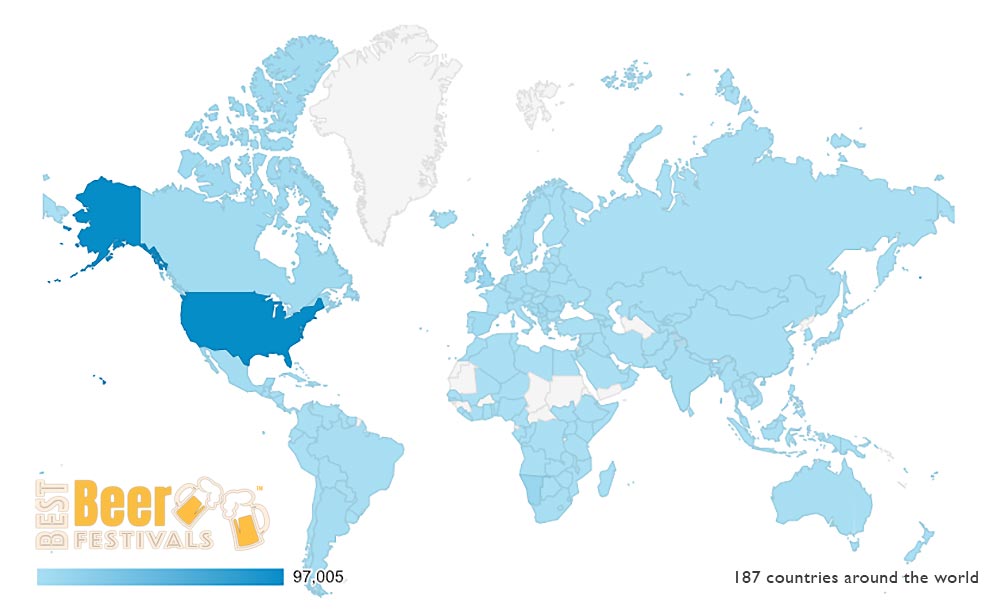 Best Beer Festivals in 2021
From the beginning in 2019, Best Beer Festivals has been focused on developing different ways to maximize effectiveness in organizing the online information related to the best beer festivals and craft brewers conferences worldwide.
2021 was an unprecedented and catastrophic year for the world's health and economy. The world of beer and related activities were no exception. Thousands of events around the globe were canceled including beer festivals and brewers conferences.
Even so, Best Beer Festivals was able to reach and pass the goals established for 2021, which were to achieve an online positioning that would allow it to reach 100,000 annual visits in more than 50 countries. Breaking the forecasts, we reached 162,775 visits in 187 countries.
---
Best Beer Festivals achieved the following in the midst of a pandemic crisis during 2020:
Number of countries reached: 187
Total page views: 230,893
Total visits: 162,775
New visitors: 143,337
---
These results encourage us to continue striving in 2022 to support beer festivals, brewers conferences and the beer community globally.
Thank you for your support.
BestBeerFestivals.com
Wheaton IL 60187 USA
Chicago Metropolitan Area
---