---
---
Anyone can call themselves an expert on beer. But when consumers want great beer they need help from a server who really knows beer flavors, styles, and service.

The word Cicerone designates hospitality professionals with proven experience in selecting, acquiring and serving today's wide range of beers. To claim the title of Cicerone, one must earn the trademarked title of Certified Cicerone® or hold a higher certification. Those with a basic level of expertise gain recognition by earning the first-level title Certified Beer Server.

A Quick Introduction
"Cicerone" is pronounced "sis-uh-rohn"

The Cicerone Certification Program seeks to ensure that consumers receive the best quality beer at every service occasion. To facilitate this, those who sell and serve beer need to acquire knowledge in five areas:
Keeping and Serving Beer
Beer Styles
Beer Flavor and Evaluation
Beer Ingredients and Brewing Processes
Pairing Beer with Food

How is a Cicerone different from a Beer Sommelier?

In the wine world, the word "sommelier" designates those with proven expertise in selecting, acquiring and serving fine wine. At one time, some beer servers adopted the title "beer sommelier" to tie into the credibility of the wine world. But in the years since its founding, the Cicerone® Certification Program has become the industry standard for identifying those with significant knowledge and professional skills in beer sales and service.

While many beer sommeliers have received excellent training, the content of each program differs. Furthermore, anyone can use the title "beer sommelier" — even if they know very little about beer! The Cicerone exams provide well-known and respected benchmarks for assigning beer expertise. Since the Cicerone titles hold trademark status in the US, Canada, Europe, and other parts of the world, only those individuals who have passed these exams can use those titles.





The Cicerone Certification Program offers independent assessment and certification so that industry professionals—as well as consumers—can be sure of the knowledge and skills possessed by current and prospective beer servers.




Founded by Long Time Brewer and Beer Expert, Ray Daniels
The Cicerone Certification Program was founded by Ray Daniels, a veteran of the craft beer industry. Daniels brings more than 25 years of brewing, judging, studying, and writing about beer to the task of managing the Cicerone program.

To ensure the validity of a Cicerone title for any individual, in any country, check the online certification directory at cicerone.org.


---

Certification Levels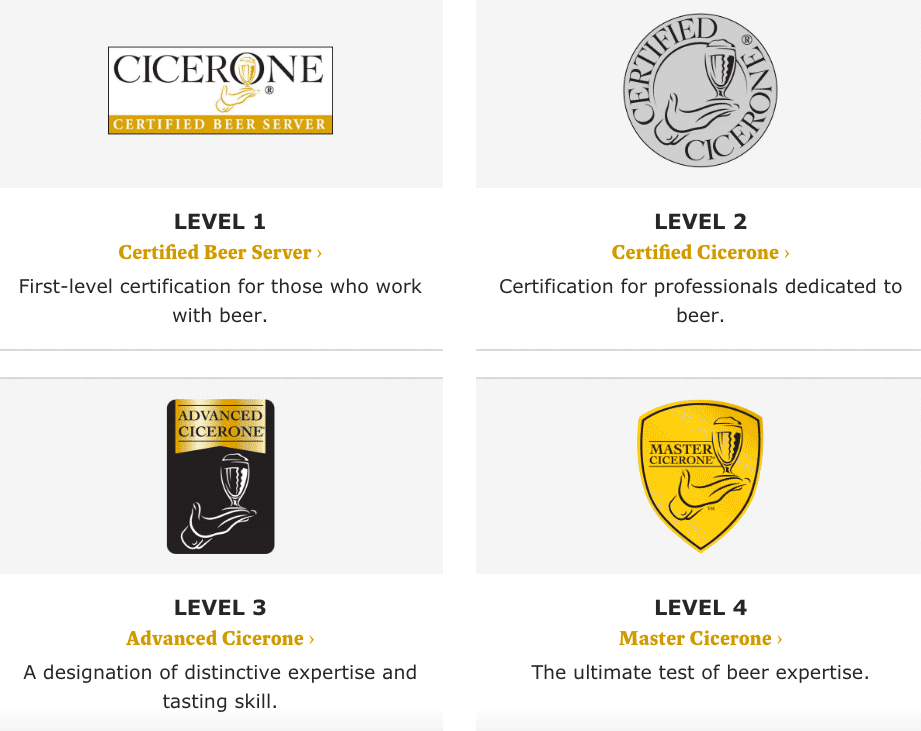 For more information please visit: www.cicerone.org