Event Description
The Chicago Beer Classic is ever committed to our mission to create unique experiences outside the ordinary. When you purchase a ticket to the Beer Classic you're not only supporting our local, small business, but also the hundreds of other Chicago small businesses who participate in the Beer Classic.

As we navigate through these difficult times, our top priority is the health and safety of our guests, employees, partners and the community as a whole. With that in mind, we are working closely with all entities to reschedule this year's Chicago Beer Classic later in the year. More information will be shared as soon as details become available. All current tickets will be automatically transferred to the new date.

We look forward to celebrating the Chicago Beer Classic at Soldier Field! Thank you for your support - stay healthy and safe.

Big Love,
The Chicago Beer Classic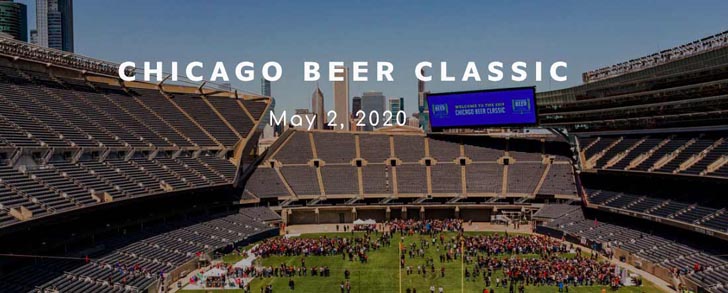 Two samples
Exclusive beers on Soldier Field
Signature Chicago Beer Classic tasting cup
Over 150 craft beers
Direct tunnel access to the field
Games and Activities
FAQs
Will Tickets Be Available At The Door?
It all depends on how many tickets are purchased ahead of time (and we anticipate selling out). So buy your tickets now.
I can no longer attend the fest, can I get a refund?
All ticket sales are final, and we don't offer exchanges or refunds. Why don't you find someone who would dig a giant craft beer fest and give your tickets to them out of the kindness of your heart?
Can I bring my kids?
Sorry, this party is for adults only. We'll card at the door and will only admit those who are 21 and over, and can prove it with a valid form of government-issued identification.
Where can I purchase a designated driver ticket?
You can purchase a designated driver ticket at the day of ticket sales tent in the event. (Designated drivers MUST be 21+ to come into the fest)
Can I re-enter the fest?
No – There is no re-entry to the festival!
Is there a last call at the fest?
Yes - Per Soldier Field's policy, last call will be 15 minutes before each session ends.
Can I bring my dog?
Unless your dog is THIS DOG, don't bring it. Pets are not allowed at Chicago Beer Classic.
Can I smoke inside the fest?
You can only smoke in the designated smoking area, which is located near entrance of the fest.
Can I bring outside food and drinks?
No. We think the food and drink we have inside the fest is pretty damn good. We'll provide water for drinking and rinsing your glasses and we have a ton of tasty food options. We'll make an exception for pretzel necklaces. We like those.
Will food be available?
Yes!
Will there be Chicago Beer Classic merchandise?
Yes, and you should totally get some, it's awesome.
How big is my cup?
Everyone gets a 3oz sample cup. However, Soldier Field only allows 2oz pours per sample. Don't worry though, you will get a good amount of samples!
Why are there drink tickets?
Because there are laws, and we like to keep in compliance with them. It's complicated, and you can read all about it HERE, but basically, just trust us — this is how it needs to be. VIP ticket holders will receive 60 drink tickets & General Admission ticket holders will receive 48 drink tickets when they arrive. Each drink ticket can be exchanged for a 2 oz sample and additional tickets will be available for $0.50.
Can I bring a backpack or a big purse?
Bags that are clear plastic and do not exceed 12″x6″x12″.
Small clutch bags, no larger than 4.5"x6.5" may be carried into the stadium along with one of the clear bag options.
Backpacks, fanny packs, and drawstring bags, whether clear or not, are prohibited.
---
Event information may be out of date due to COVID-19. Please confirm details and more information with event organizers Visit Event Website