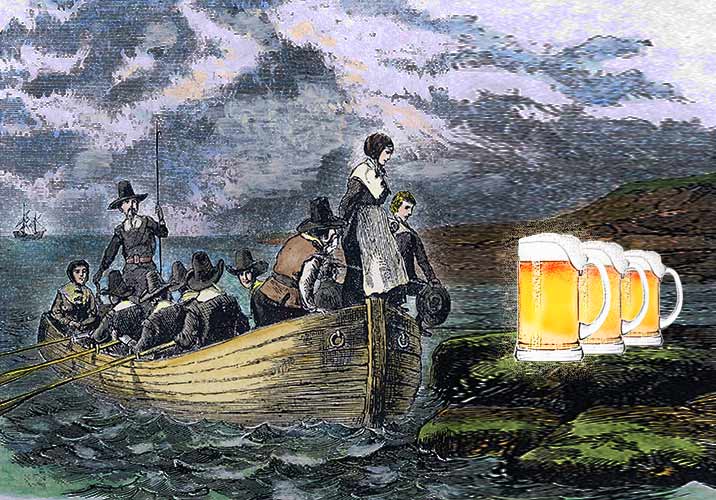 Make beer your choice for Thanksgiving
Please keep the tradition alive
---
Most people believe that wine is the best pairing for Thanksgiving dinner. You probably plan on serving your delicious meal with whatever boring and cheapest bottle of wine you found in the store. Please don't be that person.
Now, keep in mind that it is very hard to find the right wine that can pair pleasantly with everything that shows up on your giant thanksgiving plate.
Our recommendation is to make beer your best choice for this important event. A good beer will raise your holiday to another dimension. Beer pairs so much easier with all kind of food and flavors. There is a wide range of great beers in everywhere.
Going back in history, due to the unsafe drinking water, passengers on the Mayflower drank beer as a main hydration source. The Pilgrims actually stopped at Plymouth Rock because they were running out of beer. Please keep the tradition alive.
For the Thanksgiving dinner we do recommend to pair for delicious food with a good Lager Oktoberfest, Amber Ale or a strong Golden Ale.
If you are considering Pumpkin Pie as a dessert then move forward with an authentic Pumpkin Ale. If you are watching your calories then you may consider a good low carb beer as an option.
According to a study published in the Journal of Agricultural and Food Chemistry, bitter acids in beer may also improve digestion. The found that beer triggered the release of gastric acid from stomach cells. The more bitter acids a brew contained, the greater the response. Also, lots of chemicals found in beer have shown promise in preventing or even treating cancer
These are just a few suggestions but at the end just remember: The best beer is the beer that you really like and enjoy.
Dear Cerevisaphile, keep the real tradition alive.
Happy Thanksgiving
---
Related Articles
---