The Qingdao International Beer Festival is a yearly festival held in Qingdao in Shandong province, China. The event is jointly sponsored by national state ministries and the Qingdao Municipal Government. The festival has evolved from an annual two week international event during August into a month long Asian Oktoberfest. Festivities generally start late July and run through August.

Music of all kinds is featured at numerous stage venues with beers on tap from around the globe: Beck's from Germany, Kirin & Asahi from Japan, Carlsberg from Denmark, Corona from Mexico, Heineken from Holland, Tiger from Singapore, Budweiser from the states, and of course China's Tsingtao Beer, just to name a few. Besides beer and themed mascots that follow the animals of the Chinese Zodiac, there's tons of food, both Chinese and Western, to gorge on when you get the munchies.

If you are planning to go on vacation to China in summer, one of the must-go destinations is the East China city of Qingdao, where an annual beer festival offers visitors from around the world three weeks of fun.Initiated in 1991 and hailed as Asia's Oktoberfest, Qingdao International Beer Festival is the largest of its kind in Asia and one of China's biggest tourism events.
As a ceremonial routine, the city's mayor, Meng Fanli, tapped the festival's first barrel of beer, witnessed by foreign diplomats and delegations from home and abroad, as well as tourists, marking the start of the 24-day carnival.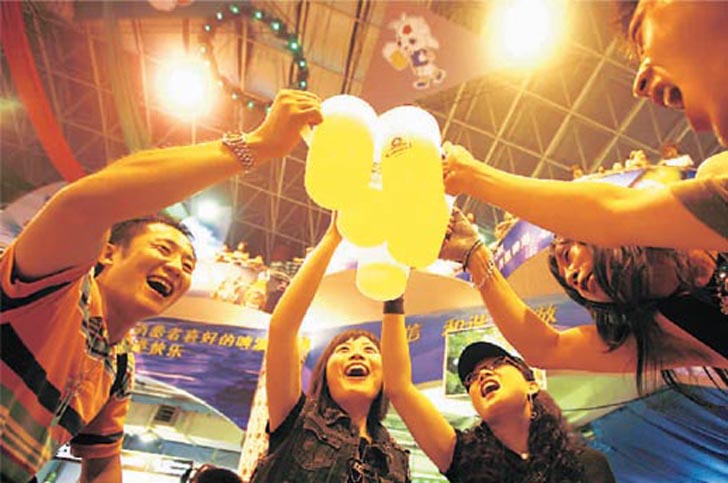 The opening ceremony witnessed the establishment of an international beer festival alliance, formed by organizers of the Qingdao International Beer Festival, the Oktoberfest in Munich, the Great American Beer Festival in Denver, and the Festival of Beer in Toronto.
More than 1,400 types of beer are available in nine halls, including Heineken from the Netherlands, Russell Brewing Co from Canada, Er Boqueron from Spain, Carlsberg from Denmark and Jeju from South Korea.

In addition, more than 400 cultural performances and activities will take place, including sports games, concerts and e-sports.